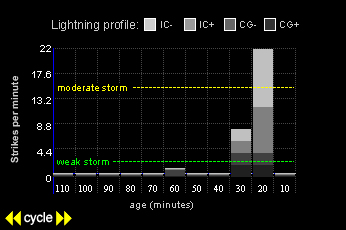 Key features

Displays strikes, thundery areas and thunderstorms updating every minute.

Uses your post code to set your latitude / longitude or can be set manually so that data is customised to your location.

Audible and/or visual alerts can be set for 'Local' and/or 'Severe' storm targets.

Tracking can be set to Closest, Newest, Most Severe, Most recent strikes or Approaching storms, or the system will track a storm by its ID no.

Clickable, interactive map to allow individual targets to be isolated and tracked easily.

Auto-scale graph of strike type and quantity over time for each target.

Precipitation overlay (courtesy ©Meteox).


Plays a storm simulation in real-time based on real-time strike data.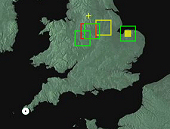 Stand-by mode for alerts and warnings

Storm area navigation data - Post Code, Town and County of close populated area and full printable map & route planner from your location to storm coordinates.