Welcome to Strike Display

Version 5.3 - 25/05/10
Strike Display is an advanced storm tracking and analysis tool for anyone interested in lightning or thunderstorm activity in the UK.

It is a website application, so requires no software downloads or special plug-ins - just your usual website browser...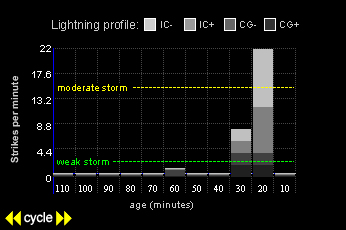 Key features of Strike Display:

Storm Chaser Information!

Customise to your own location using your post code


Track individual or groups of storms using 6 types of criteria


Track soonest ETA rainfall/precipitation


See developing thundery areas


See detailed strike analysis storm-by-storm


See an AV display of each storm based on its strike data


Set up AV alarms

Detailed features:
Displays lightning strikes, thundery areas and thunderstorms updating every minute.

Uses your post code to set your latitude / longitude or can be set
manually so that data is customised to your location.

Audible and/or visual alerts can be set for 'Local' and/or 'Severe' storm targets.

Thunderstorm tracking can be set to Closest, Newest, Most Severe,
Most recent strikes or Approaching storms, or the system will track a storm by its ID no.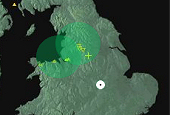 Clickable, interactive map to allow individual targets to be isolated and tracked easily.

Auto-scale graph of lightning strike type and quantity over time for each target.

Plays a thunderstorm simulation in real-time based on
real-time lightning strike data.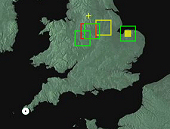 Stand-by mode for alerts and warnings

Storm area navigation data - Post Code, Town and County of close
populated area and full printable map & route planner from your location to storm coordinates.

Bringing you the latest trends in AV weather presentation !


Optimised for the web - using effective but economical web components


Realtime graphics and descriptions generated from live data


Fully interactive


Fully customisable AV alerts and sound effects

Other services we provide:


Sporting Weather - (subscription to this is free with a subscription to Strike Display) individual, specialised nowcasts and forecasts for outdoor sports clubs


Nowcast.co.uk - Free service - individual nowcasts and forecasts for towns, villages and roads in the North of England and the Midlands
*Provided with permission from Meteox © 2008.